∼  ∼
País Variety
Ancient strain introduced by the Spanish in 1548. It is a cosmopolitan strain that is grown in the south-central area and in the Codpa valley. Nowadays, it regains importance in the Pampa del Tamarugal, as a patrimonial and heritage vine.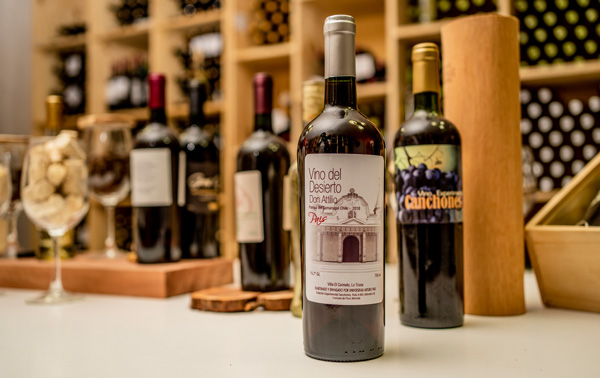 País
TASTING NOTES
Sight Violet red color, with low medium intensity and magenta rim.
Nose: High aromatic intensity, very fruity, highlights the aromas of strawberry, blackberry, ripe red apple, plum, roses, cocoa, cinnamon and strawberry yoghurt.
Palate: High acidity, salinity is perceived, having a medium-long finish.
WINE ATTRIBUTES Strain: País (Mission grape)
Wine Type: Red wine
Origin: Pampa del Tamarugal
Recommended Temperature: : 18 - 22° C
Pairing: Grilled llama meat accompanied by potato chuño puti and quinoa.
∼  ∼
Other Varieties
of
Vino del Desierto
Sale Points

Rayú
+56 57 243 5441
Filomena Valenzuela 125-A, Iquique

Hotel Caiti
(57) 242 3038
Gorostiaga 483, Iquique

Club Náutico
(57) 243 6015
Capitán Roberto Pérez 110, Iquique

Doña Filomena
Filomena Valenzuela #298, Iquique
(57) 231 1235

Viña Canchones
Kilómetro 29, ruta 665
Martes a Jueves
09:00-13:00
15:00-17:00