∼  ∼
 Gros Colman Variety
Red vine, native to Georgia from the former Soviet Union. It came from an old vineyard located at the Canchones Experimental Station from the Universidad Arturo Prat in the Pampa del Tamarugal. This vine is grown exclusively in the Region of Tarapacá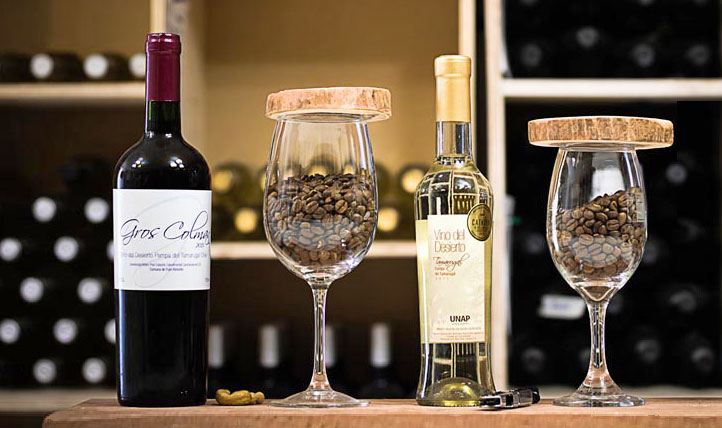 TASTING NOTES
Sight: Pale violet color, with medium intensity, ruby reflections and magenta rim.
Nose: Aromatic, fruity and caramel wine. Aromas of berries, such as ripe blackberries and blueberries, violet, cinnamon.
Palate:  Medium-high acidity, it has salty notes that give it a tasty touch on the palate. Middle end.
WINE ATTRIBUTES
Strain: Gros Colman
Wine type: Red wine
Origin: Pampa del Tamarugal
Recommended temperature 16° C
Pairing: Quinoa stew, accompanied with llama meat. Calapurca; Octopus on the grill.
AWARDS
| | |
| --- | --- |
| |   90 points, Super Premium, LA CAV 2020 |
∼  ∼
Other Varieties
of
Vino del Desierto
Sale Points

Rayú
+56 57 243 5441
Filomena Valenzuela 125-A, Iquique

Hotel Caiti
(57) 242 3038
Gorostiaga 483, Iquique

Club Náutico
(57) 243 6015
Capitán Roberto Pérez 110, Iquique

Doña Filomena
Filomena Valenzuela #298, Iquique
(57) 231 1235

Viña Canchones
Kilómetro 29, ruta 665
Martes a Jueves
09:00-13:00
15:00-17:00